new | 2009
Red Reporter: Covert Correspondent for East Germany

by John Green
2009; Paperback; 347pp; ISBN 978-0-9558228-1-0
'Television correspondents often write books as recycled products of their foreign reports. They tend to be self-indulgent; self-criticism is not on their agenda. In contrast to such self-portrayals John Green stays reassuringly humble. He is plagued by doubts about his profession and is, in the end, determined to hang up his tools. That's an honest move, more honourable and creditable than a number of other accounts that have been written by former comrades from the GDR.'

Peter Schütt, Die Tageszeitung
Red Reporter is the reminiscences of someone who worked for 20 years as a covert correspondent in the West on behalf of the German Democratic Republic's (East Germany) state television. It reveals how the GDR – in its early years ostracised as an illegitimate state by the western world – obtained its Western news coverage and was able to report from countries viscerally opposed to socialism in any form. It also explains how this coverage was based on a tradition of solidarity with the struggling peoples of the world and as a means of promoting the idea of socialism.
John Green grew up in Coventry. After abandoning a zoology degree course after his second year at Bristol University, he switched to Drama. In 1964 he made the adventurous move to the German Democratic Republic to study film at the National Film School in Babelsberg, near Potsdam. He was the sole British student in the country. Returning to his native Britain in 1968, he became television correspondent for the GDR and spent 22 years reporting from around the world. Because the GDR, particularly at the height of the Cold War, was not officially recognised as an independent state, he and his colleagues were obliged to work anonymously and quasi-clandestinely in order to obtain the footage they needed.
'Green's reports from fascist Greece, Ireland, Grenada, Chile, El Salvador and the so-called Third World countries of Africa convey a fascinating insight into the life of a reporter from "the other side".'

Dirk Ruder, Unsere Zeit

During the closing decades of the 20th century, the author travelled to many parts of the world in his work as a television correspondent, covering liberation struggles in Africa and Latin America, social and political campaigns in the USA and labour struggles in Britain and Western Europe. As a reporter on the front line he had a unique insight into the causes of conflict, the pertaining historical parameters and the political forces at work. In its scope this book offers a special view of history through the eyes, as the author puts it, of a foot soldier rather than through the lenses of the leaders and generals who invariably write history. The book is also a welcome antidote to the plethora of simplistic 'Stasiland' caricatures of the GDR as merely a tyranny, peopled only by spies and victims. It is an honest and revealing account, which will be of interest to anyone concerned with the communications media and politics.
2008
Engels: A Revolutionary Life

by John Green
Paperback; 347 pp; ISBN 978-0-9558228-0-3
Tony Benn says of this book:
'A new and popular biography of Marx's friend and collaborator, Friedrich Engels, is long overdue and to be welcomed. He fought his life long for socialism, and most of those years were spent in Manchester and London. His life and his ideas on democracy, socialism and economics still have relevance for us today and can be an inspiration in a struggle that is never ending'.
Friedrich Engels was the Che Guevara of his day. Like Che, he also came from a privileged background, but rejected middle class privilege to devote himself to the struggle for the liberation of working people, for justice and socialism. As a young man he fought in the hills of southern Germany with a small band of like-minded guerrillas. After defeat, he fled Prussian persecution to settle in Britain, where he spent the rest of his life.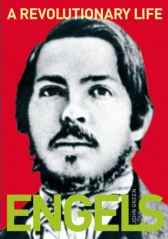 Instead of continuing his adventurous life as a full-time activist, he took on a double life in order to support his friend, Karl Marx. In the middle class citadels of Manchester, he was known as a staid, honest and respectable businessman, but clandestinely he devoted himself to the struggle for socialism. His and Marx's ideas and his vision helped transform the 20th century world and still resonate today. In this fascinating new biography, the icon Engels is given flesh and blood, bringing his life and times vibrantly alive.